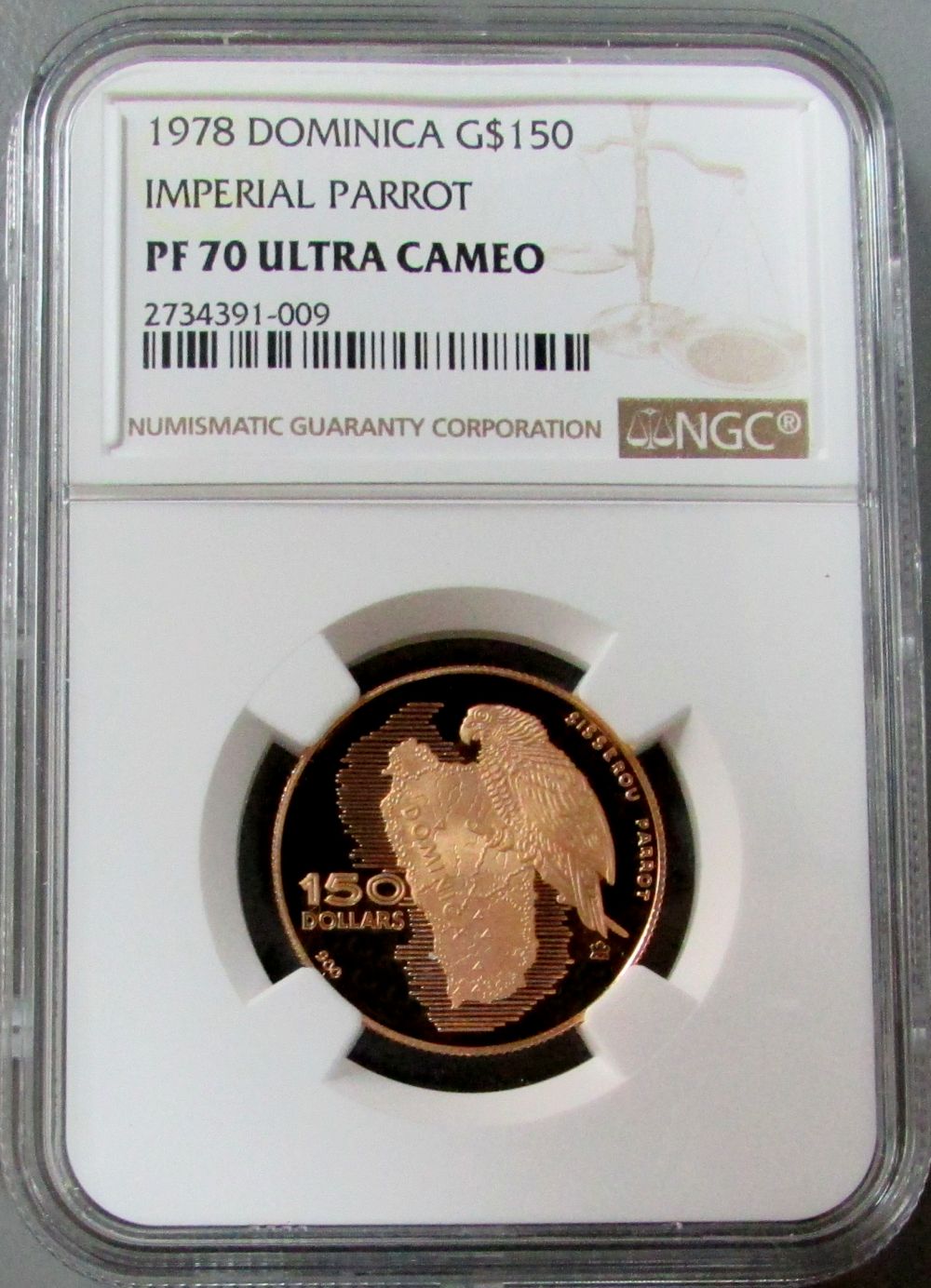 COMMONWEALTH OF DOMINICA
INDEPENDENCE - IMPERIAL PARROT
900 FINE WITH CANADA MAPLE LEAF MARKS
CERTIFIED BY NGC PROOF 70 ULTRA CAMEO
OBV: YOUNG PORTRAIT BUST OF ELIZABETH II WEARING TIARA RIGHT, INDEPENDENCE DATE FLANKING.
REV: IMPERIAL AMAZON PARROT UPPER LEFT WITH MAP OF DOMINICA BEHIND; DENOMINATION LEFT.
KM # 14.2
THE ISLAND NATION OF THE COMMONWEALTH OF DOMINICA GAINED INDEPENDENCE FROM THE UNITED KINGDOM IN 1978. THE COUNTRY IS A MEMBER OF THE COMMONWEALTH OF NATIONS.
THE COLORFUL SISSEROU, OR IMPERIAL AMAZON PARROT (AMAZONA IMPERIALIS), PICTURED ON THE REVERSE OF THIS COIN, IS FOUND ONLY ON DOMINICA. IT IS THE NATIONAL BIRD OF THE ISLAND STATE AND IS FEATURED AS SUPPORTERS OF THE NATIONAL ARMS. BECAUSE OF NATURAL DISASTERS, LOSS OF HABITAT AND THE PET TRADE, THE SPECIES IS ESTIMATED TO HAVE LESS THAN 250, BUT POSSIBLY AS LOW AS 100, REMAINING SPECIMENS IN THE WILD. ENDANGERED, IT IS A PROTECTED SPECIES, AND RISING NUMBERS IN THE PAST FEW YEARS ARE DUE TO REINTRODUCTION OF THESE BIRDS INTO THE NATIONAL PARK. ALOS, THE PET TRADE ACTUALLY HAS BEEN OF UNUSUAL AND PERHAPS UNINTENTIONAL HELP IN SAVING THE ANIMAL FROM EXTICTION, DUE TO THE USE OF CAPTURED BIRDS BY CONSERVATION OFFICIALS TO BREED AND RELEASE THEM.
CONTAINS 9.6 GRAMS OF 900 FINE GOLD
( 0.2778 OZ AGW )
31 MM IN DIAMETER
ONLY 116 MINTAGE!